Returning Student Registration
2022-2023 MISD Returning Student Registration Information
We are excited to plan another great year with you!
Our eRegistration platform is now open for all new and returning students! We ask that each family register each of their students for school via eRegistration. **Note: Students that attended Longfellow for preschool and are now returning to MISD for Kindergarten are considered returning students.
The recently redesigned eRegistration system can be conveniently accessed through a web browser such as Chrome, Firefox, Safari. With the new registration, forms can be completed on a desktop or mobile device.
eRegistration can be completed all from the comfort of your own home or office by logging into your PowerSchool Parent Portal account. Appointments can be set for on-site registration assistance are offered by contacting your student's building directly.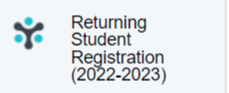 3. Authenticate your account by entering your student's date of birth.
4. Navigate thru the various pages to update your student's demographic and contact information already on file with the school.
5. In the registration form you will be able to sign your student up for transportation, access Iowa's Free/Reduced Lunch Application (available after July 15), complete the CPI Form A, as well as show interest in various clubs, activities, and athletic teams. **NOTE: Once the registration form is complete and submitted, any additional changes will need to be made with the building secretary.
6. Health documents (including a vision screening and immunizations) will be requested in the online registration form. They may be uploaded electronically or brought in to your building secretary at your registration appointment.
7. Textbook fees and Transportation fees will be assigned to students in August.
All remaining paperwork that was not uploaded may be brought in to the secretary to be reviewed and verified. Classroom teachers will be assigned in August prior to the first day of school.
For assistance logging into the PowerSchool Parent Portal or with completing the registration form, contact your building secretary, email enrollment@marion-isd.org, or contact District Registrar Jeff Kost at (319) 377-4691 ext. 1108.